What is the PI Planning Board about?
In the Scaled Agile Framework (SAFe), Program Increment (PI) Planning is an important event that takes place at the whole project level (named Agile Release Train in SAFe). Generally, every ten weeks (corresponding to five 2-week sprints), all team members and stakeholders gather in a unique place for a large 2-day workshop to align all Agile teams on the vision and feature priorities. The PI Planning Board is the underlying artifact that helps program managers run the event and build the roadmap.
With this event and all other features of the framework, SAFe has been designed to overcome two challenges that Scrum and Extreme Programming frameworks could not on their own:
The first challenge is to extend Agility beyond development. It means finding a way of building the strategy, determining and implementing architecture, allocate financial resources, and enabling end-to-end testing, all in an Agile manner;
The second challenge is to coordinate several Agile teams who participate in the development of the same product.
The PI Planning event allows teams to agree on crucial milestones that should be respected by the Program while identifying feature dependencies across all teams' plans and managing program risks. One other expected outcome is that team members and stakeholders can experience the business benefits of establishing regular communication.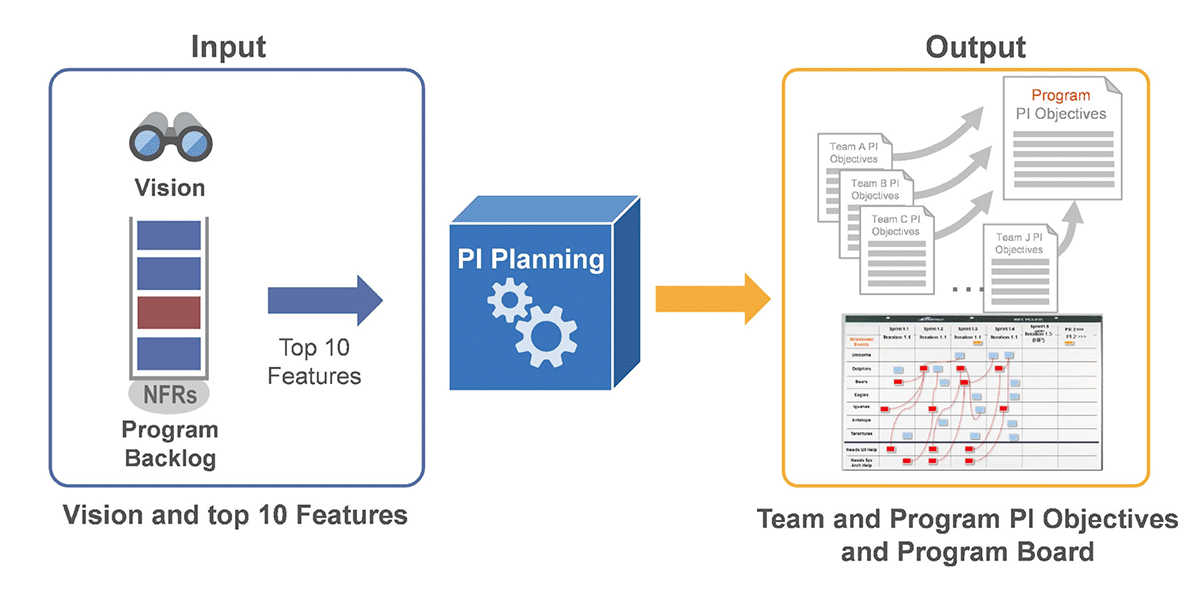 The PI Planning process according to the Scaled Agile organization.
Standard inputs of the PI Planning are:
The business context, provided by a business owner and that describes the current business challenges and goals;
The high-level roadmap and the up-to-date vision of the Program;
The top 10 features of the Program Backlog.
And common outputs are:
Committed PI Objectives: Features determined by each team with the corresponding business value;
The

Program

Board

: This visual management artifact allows program managers to map each team's plan, draw dependencies, and settle relevant milestones.
How to build a comprehensive PI Planning Board?
The traditional PI Planning Board includes all components of the agenda of the PI Planning event:
The agenda itself;
The Program Board;
The

Risk

Roaming

Matrice

: It is an exercise whose aim is to address and assess program risks and impediments and find out mitigants when possible;
The Confidence Vote: All team members have the opportunity to express themselves about the achievability of the Program Increment;
The PI Planning Retrospective: A traditional continuous improvement ceremony to make the next event better.
The PI Planning Board can be linked to teams' boards in which each team can draft its particular plan, assess its objectives' business value, and identify its own risks and impediments.
Suggested resources to know more about PI Planning